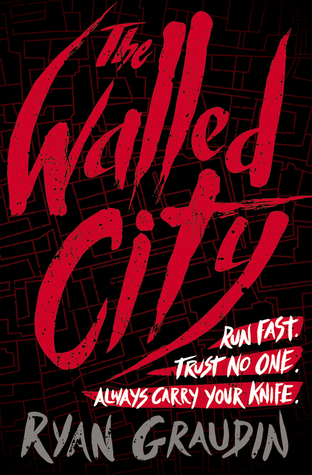 The Walled City
By Ryan Graudin
Published 2014 by Little, Brown Books for Young Readers
Jin keeps her gender a secret - it's safer that way in the Walled City. She must pass as a boy in order to search for her sister, Mei Yee, who was sold by their father. Dai keeps his true identity a secret, too - for him, it's a matter of life or death. But Dai's time in the Walled City is running out. With the help of Jin, can he get what he needs and find a way out? And can Jin use Dai to help find her sister?
I thought the premise of this sounded very interesting - multiple POVs, a walled slum, and a thriller novel. It certainly had my attention. Though I didn't quite get to it before its release date, I sped through it the few days after.
What's interesting is that, though I liked this book (I gave it four stars on my Goodreads), I'm not sure how much I have to say about it. I'll try, but this may be a relatively short review.
For starters, as I said, I'm usually a fan of multiple perspectives in a novel. I like that they provide a variety of insights into the plot happenings and the more characters' heads I can get into, the better. I think Graudin did a great job choosing her narrators - they are all unique characters with very different perspectives on the Walled City and their places within it. I think Jin was my favorite, though - she's a tough kid (though sometimes a bit too unbelievably so), smart and determined. I appreciated that she was using Dai just as much as he was using her. I liked Dai's voice as well, though I felt it took a little too long to explain the source of his self-hatred and the circumstances surrounding his arrival in the Walled City. And, while I thought Mei Yee's perspective was perhaps the most interesting of the three, I did wonder if including her as a narrator undermined some of the novel's suspense.
Similarly, Graudin does an excellent job of bringing the Walled City to life, sometimes disturbingly so. Telling potential readers about the setting will make this a pretty easy sell for dystopian fans. I was both impressed and unsettled to read the author's note at the end, wherein she explains that the Walled City is based on a place that actually existed in Hong Kong. I think this will be new information to many readers, and may inspire them to learn more about the world and find out how a place like this could actually exist. Similarly, I think Graudin does a nice job of handling the notion of human trafficking here, another issue that teens should be aware of.
What I didn't like much was the romance. It comes out of nowhere, happens instantly, and feels completely inappropriate. It's hard not to root for it considering the dire circumstances the characters are in, but it felt manipulative and really out of line with the rest of the book. These teens have bigger things to worry about than falling in love right now.
Overall, I thought this was well-done, and will definitely appeal to dystopian fans even though it's a contemporary thriller.
Thanks to the publisher for a digital advance reader's copy, provided via NetGalley.