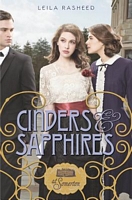 Cinders & Sapphires (At Somerton, book one)
By Leila Rasheed
Published 2013 by Disney-Hyperion
Rose Cliffe is a lady's maid for the first time and she has a rather unusual mistress. Lady Ada Averley treats Rose as an equal and believes desperately in a woman's right to an education. Returned to their ancestral home amid scandal, Ada's family is trying to repair their reputation. But Ada's desires may clash with what's best for her family. What will she choose?
So, this is being marketed as the perfect read for
Downton Abbey
fans. Having not seen the series (yes, I know, I am the only one of my coworkers who doesn't watch it), I can't really tell you how it compares. What I can tell you is that this is a pretty weak entry in the historical fiction genre.
I love historical fiction - I'm not particular about time period, as long as the writing is evocative and immersing. I want to feel like I'm really there. This is the first area in which Rasheed falls down - yes, it is clear this book takes place in an earlier time period but it quite often doesn't seem that relevant to the story. While there is a storyline about Ada being unable to attend Oxford because she should be getting married, this book does not necessarily bring to life the time and place in which it's set. It sort of felt like Rasheed chose this to, first, capitalize on the rampant success of
Downton
and, second, to cram the most scandal into one novel (not difficult to do in a more conservative era).
The next fault I find with this book lies in the characters - they are simply uninteresting and undeveloped. I don't care that Ada can't go to Oxford - she bores me. All the characters seem to fit into overdone stereotypes - Rose, the beautiful but shy maid, Ada, the strong-willed and conflicted young lady, Charlotte, the scheming and witchy stepsister, Sebastian, the handsome stepbrother with a big secret - it's just all so run of the mill.
Perhaps the biggest failing grows out of this lack of characterization - the romance. Ada's desire leads her, in the first 10 pages or so, to fall instantly in love with a young Indian man who also believes that women have a right to an education. Of course, Ada cannot be with him as he is below her station, so she spends the following 300 pages trying to decide if she should forget him to save her family's prestige or follow her heart and marry him anyway. THEY DON'T EVEN KNOW EACH OTHER. This is actually a running trend in the novel - every character falls instantly in love with the object of their desire, despite the fact that none of them seem to actually know each other. Can we please stop having this be a thing?
Some notes on reading this in ARC form: there were no markings to delineate changes in narrative, leading me to often be confused about what I was reading. It would switch quickly from a scene with Ada to a scene with Rose to a scene with Stella (and so on) with no clear indication that this had happened. It made it a pain to keep everything straight. Additionally, there were a number of instances when character names were transposed, leading to even greater confusion as they were all so bland in the first place.
This may have its fans (especially judging by other reviews) but I won't be back for book two.
Thanks to the publisher for a digital advance reader's copy, provided via NetGalley.